Last Updated August 18, 2020
We have opened a brand new branch of Crose Mechanical in Halifax County, Nova Scotia. With over 35 years of experience, we offer heating and cooling products, sales, service and repair. And the best darn maintenance program around! Residential and commercial for natural gas, propane, and fuel oil systems.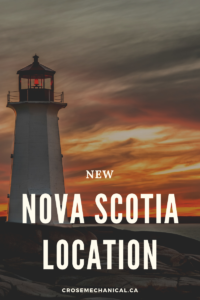 Why Did Crose Mechanical Decide To Expand To Nova Scotia?
Over the last several years, Eric and Sherri have travelled out to Nova Scotia to visit her family. They are both motorcycle enthusiasts, so they would trailer out their motorcycles to Porters Lake. After visiting with the family, they then ride to Digby for the Wharf Rat Rally.
During their motorcycle trips across Nova Scotia, and being in the industry that he is, Eric noticed the many mechanical vans and different brands. He got to thinking about Crose Mechanical's business, and how they help their customers with all the services they offer.
After falling in love with the east coast area, Eric started looking at some of the local companies in Porters Lake area. He thought he could partner with an existing company or sub-contract to one.
When Eric's partner sold her house and expressed interest in moving out there, he considered how he could make it work. He has since bought a house in Porters Lake and has opened up the Nova Scotia branch of Crose Mechanical.
Crose Mechanical offers Porter's Lake, and all Halifax County residents the same level of service he's proud to offer in Owen Sound.
Whether you are in Ontario or Nova Scotia, if you have a heating or cooling need, please contact us so we can assist you.