DAIKIN FIT | Air Conditioner
Suggested Retail Price*: $
Whole House Air Conditioner – Inverter
The Daikin Fit system is a side discharge, smart HVAC system that won't compromise on comfort and connects to ducted solutions traditional to the unitary market. In a market saturated with expensive high-tiered inverters, the system provides a premium mid-efficiency inverter at an affordable rate. The low profile of the outdoor unit offers solutions when a traditional cube style cannot.
FLEXIBLE. INNOVATIVE. TECHNOLOGY
Quiet
Space-Saving
Efficient Low Profile Air Conditioner with Inverter Technology
Affordable
Durable heat exchanger
Self-diagnostic control board
Features
Daikin variable-speed swing compressors
High-density foam compressor sound blanket
Compatible with Daikin One+ smart thermostat and other Daikin communicating equipment
Daikin control algorithmic logic
Intelligent Defrost Mode
In communicating mode – only two low voltage wires to outdoor unit required
Diagnostic indicator lights – seven-segment LED display – and fault code storage
Daikin Inside intelligence for diagnostics
Field-selectable boost mode increases compressor speed during unusually high loads
Quiet DC outdoor fan motor
Field-installed bi-flow filter drier
Coil and ambient temperature sensors
Suction pressure transducer
Sweat connection service valves with easy access to gauge ports
Advanced water-shedding drain pan
Hot start technology
AHRI Certified – ETL Listed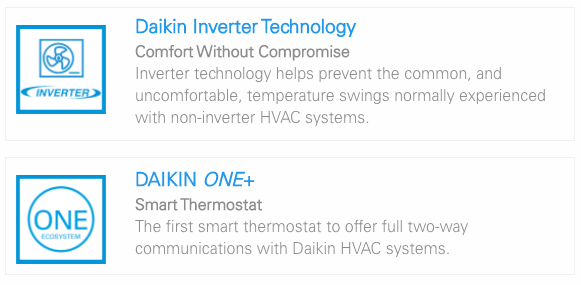 * Pricing may vary based on current market pricing at the time of sale
Fill out the form below with your questions about this product and we'll get back to you as soon as we can!